"Burning Down George Orwell's House is fiction as high-wire act, and Ray Welter is a nowhere man for the ages, going down and out in the shadow of the man himself. Ervin tosses up hilarity and horror, musicality and menace, with page after page of firecracker prose.
— Marlon James
"Burning Down George Orwell's House is a wickedly funny novel soaked in wit and whisky as well as a poetic revelation on consumer living. Ervin ingeniously draws you into the disturbing world of Jura and its menacing inhabitants. I fucking loved it.
— Lisa O'Donnell
"Burning Down George Orwell's House is really most enjoyable, a witty, original turn on the life and memory of the Sage of Jura, taking place on the island where he wrote Nineteen Eighty-Four. Eric Blair serves as the McGuffin in this story, which is one part black comedy and one part a meditation on modern life. It is well-written and truly original.
— Robert Stone
"Ray Welter — corrupted, debauched, cuckolded, fighting all the way down — is a brilliant creation, and Andrew Ervin's Burning Down George Orwell's House is a work of laudable mischief.
— Owen King
"Beyond being a vastly entertaining novel, cunningly observed and delicately flavored with the very finest Scotch whiskey on the planet, Burning Down George Orwell's House is a serious meditation on just how Orwellian our world has really become. Let Andrew Ervin help you imagine your way to a world beyond Big Brother.
— Madison Smartt Bell
a novel // Soho Press
A darkly comic debut novel about advertising, truth, single malt, Scottish hospitality—or lack thereof—and George Orwell's Nineteen Eighty-Four.
Ray Welter, who was until recently a high-flying advertising executive in Chicago, has left the world of newspeak behind. He decamps to the isolated Scottish Isle of Jura in order to spend a few months in the cottage where George Orwell wrote most of his seminal novel, Nineteen Eighty-Four. Ray is miserable, and quite prepared to make his troubles go away with the help of copious quantities of excellent scotch.
But a few of the local islanders take a decidedly shallow view of a foreigner coming to visit in order to sort himself out, and Ray quickly finds himself having to deal with not only his own issues but also a community whose eccentricities are at times amusing and at others downright dangerous. Also, the locals believe—or claim to believe—that there's a werewolf about, and against his better judgment, Ray's misadventures build to the night of a traditional, boozy werewolf hunt on the Isle of Jura on the summer solstice.
"'Burning Down George Orwell's House' is a sweet book full of delights. Since many of its best passages are rhapsodies on single malt whiskies, one is tempted to call it a wee bonny dram of a tale."
—Christopher Buckley, New York Times Book Review

[A]n evocative novel of place that makes pointed commentaries about the 'wired world' of the 21st century that 1984 intuited. … As all good comedies do, Ervin's novel contains a sober question at its core."
—Maureen Corrigan, NPR's "Fresh Air"
"A glorious debut."
—Philadelphia Inquirer

"Ervin's debut novel follows in the tradition of classic comedies where a supposedly cosmopolitan outsider tests his welcome in an insular old-world village. Both come in for some good-natured satire."
—Newsday
"A whisky-soaked hoot worth hollering about."
—Austin Chronicle
"The novel is so entertaining […] it's a breezy bit of fun for anyone who dreams of Scotland, enjoys a wee dram of scotch and wonders what it might be like to leave modern life behind – at least for a few hours."
—Cleveland Plain Dealer

"Big Brother might not be watching [Ray Welter] but the island's eccentric locals sure are and also, possibly, a werewolf. High comedy ensues as Welter tries to find himself, Orwell and the savage beast."
—New York Post
"Wry and engaging… Nineteen Eighty-Four casts a long shadow over countless books—but not this one… Ervin has achieved something uniquely refreshing: a book that shows the taste and restraint to pay knowing, affectionate and humorous tribute to George Orwell without trying to prove him right—or to create some redundant simulacrum of his work."
—Paste Magazine

"You will get thirsty, and if you can muster up a fire in a fireplace, you'll be set."
—Black Sheep Dances
"Burning Down will appeal to those who have wondered what ditching our smart phones and laptops would do to make our lives less complicated. What geographically remote island could we retreat to for some peace of mind and, obviously, some world-class scotch?"
—The Santa Fe Writer's Project Quarterly
"A dramatic, thoughtful, and at times comic revisiting of (and attempt to escape from) Orwell's world."
—Kirkus Reviews 

"Captures the stark and chill atmosphere of the small island, on which strangers are unwelcome and apparently very good whiskey is consumed in copious quantities."
—Booklist
"Ervin writes with skill and a penchant for the absurd… Very funny."
—Library Journal
"Ervin excels at atmosphere and fish-out-of-water interactions."
—Publishers Weekly
Available Here: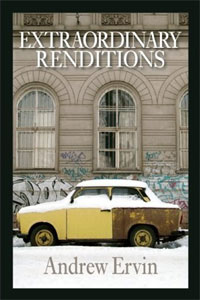 three novellas // Coffee House Press
A formidable new voice in American fiction, Ervin tackles the big themes of war, prejudice, and art, lyrically examining the reverberations of unrest in today's central Europe, the United States' legacy abroad, and the resilience of the human spirit.
Buy Now:
Bit By Bit:
How Video Games Transformed Our World
Basic Books
Spring 2017