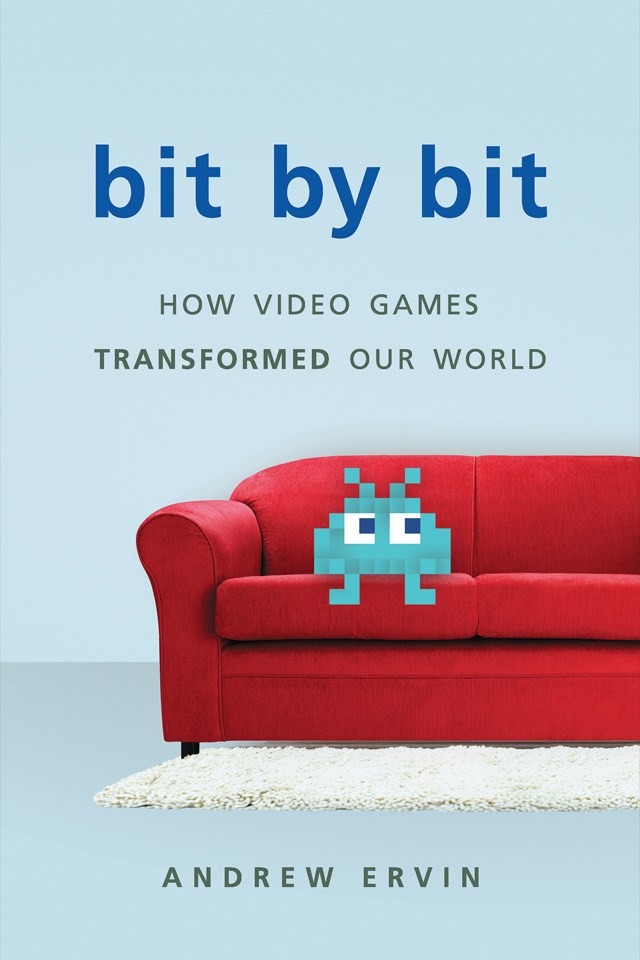 Bit By Bit: How Video Games Transformed Our World
Basic Books
In Bit by Bit, Andrew Ervin sets out to understand the explosive popularity of video games. He travels to government laboratories, junk shops, and arcades. He interviews scientists and game designers, both old and young, famous and less so. In charting the material and technological and business history of video games, from the 1950s to the present, he suggests that their appeal starts with the sense of creativity they instill in gamers. And as Ervin reveals, the best games, in building on longstanding traditions of narrative storytelling and pictorial representation, rise to the level of art. From Tennis for Two (1958) to Minecraft and beyond, video games offer us experiences that cannot be found in any other medium. In this witty, searching book, Ervin explains the power of games, and why their reign will be long.
"In a contemplative ode to electronic entertainment, Ervin ventures into the world of video and computer games … His affection for the subject is obvious. … [I]t's a personal journey that speaks volumes on how video games have grown, evolved, and multiplied to fill myriad roles over the years."
—Publisher's Weekly
"It's unusual for a history of video games to feature multiple quotes from Rilke, references to philosophy and Zen Buddhism, and comparisons to great works of art. But that's exactly what Ervin serves up to support his compelling argument: video games can be art."
—Booklist
Advance Praise
"A fun and insightful analysis of the cultural, educational, and historical value of video games. Ervin deftly traces the evolution of our most interactive art form from Adventure to Minecraft, while offering riveting first-hand accounts from many of the men and women who made it all happen. Bit by Bit is an essential addition to every video game lover's library."
—Ernest Cline, author of Ready Player One

"Like spaceships or skyscrapers, video games are a collaboration of humans and machines, of art and commerce. One part flesh, one part metal, one part markets, one part truth. Andrew Ervin composes a winsome but measured portrait of games from all these pieces, bit by bit."
—Ian Bogost, author of How to Talk about Videogames 

"Bit by Bit is the perfect video game book: it's part gamers' history, part history of games, and by a writer inclined to philosophical insight and literary reference. Extra hearts for a history that actually includes the contributions of women, too!"
—Amber Sparks, author of The Unfinished World
"Not many books about video games allow Denis Johnson to rub shoulders with Monkey Island or Vladimir Nabokov with Peter Molyneux. Ervin's taste in games is excellent, his points are thought-provoking, and his cultural omnivorousness (take note, aspiring game journalists) is thrilling. A terrific book."
—Tom Bissell, author of Extra Lives: Why Video Games Matter 
Coming May 2017! Pre-order Now!
a novel // Soho Press
A darkly comic debut novel about advertising, truth, single malt, Scottish hospitality—or lack thereof—and George Orwell's Nineteen Eighty-Four.
Ray Welter, who was until recently a high-flying advertising executive in Chicago, has left the world of newspeak behind. He decamps to the isolated Scottish Isle of Jura in order to spend a few months in the cottage where George Orwell wrote most of his seminal novel, Nineteen Eighty-Four. Ray is miserable, and quite prepared to make his troubles go away with the help of copious quantities of excellent scotch.
But a few of the local islanders take a decidedly shallow view of a foreigner coming to visit in order to sort himself out, and Ray quickly finds himself having to deal with not only his own issues but also a community whose eccentricities are at times amusing and at others downright dangerous. Also, the locals believe—or claim to believe—that there's a werewolf about, and against his better judgment, Ray's misadventures build to the night of a traditional, boozy werewolf hunt on the Isle of Jura on the summer solstice.
---
"Burning Down George Orwell's House is really most enjoyable, a witty, original turn on the life and memory of the Sage of Jura, taking place on the island where he wrote Nineteen Eighty-Four. Eric Blair serves as the McGuffin in this story, which is one part black comedy and one part a meditation on modern life. It is well written and truly original."
—Robert Stone
"Burning Down George Orwell's House is fiction as high-wire act, and Ray Welter is a nowhere man for the ages, going down and out in the shadow of the man himself. Ervin tosses up hilarity and horror, musicality and menace, with page after page of firecracker prose."
—Marlon James
"As all good comedies do, Ervin's novel contains a sober question at its core—in this case, whether the idea of 'escape' itself is just another manipulation sold to us 'proles' by the very same wired world that engulfs and exhausts us. Take a wild guess what George Orwell would say."
—Maureen Corrigan, NPR's Fresh Air
Available Here:
three novellas // Coffee House Press
Music, war, and imperial ambition touch three lives in this intricately woven story. 

World-renowned composer and Holocaust survivor Lajos Harkályi has returned to Hungary to debut his final opera and share his mother's parting gift, the melody from a lullaby she sang as he was forced to leave his Hungarian home for the infamous Czech concentration camp Terezín. Private First Class Jonathan "Brutus" Gibson is being blackmailed by his commanding officer at the US Army base in Hungary, one of the infamous black-sites of the global War on Terror, and he must decide between going AWOL or risking his life to make an illegal firearms deal in Budapest. Aspiring musician Melanie Scholes is preparing for the most important performance of her career as a violinist in Harkályi's opera, but before she takes the stage she must extricate herself from a failing relationship and the inertia that threatens to consume her future. As this book reaches a crescendo, their three stories achieve an alchemical harmony, reminding us that each individual has the spirit to contend with tyranny, apathy, and the brutal circularity of history.
---
"I can't decide what amazes me most about this book: the confident, muscular beauty of Andrew Ervin's writing; the breadth of his imagination; or the depth and diversity of his profoundly engaging characters. Again and again, though the force of the narrative drove me relentlessly onward, I would stop simply to marvel. Extraordinary Renditions is an extraordinary debut."
—Julia Glass
"Through the eyes of three outsiders, Extraordinary Renditions takes the reader deep into the heart of Budapest, both its past and present. The whole city is here, the banks of the Danube brimming with history, intrigue, art, food, drink, and most important of all, music. His characters may be lost—even the one native is a foreigner—but Andrew Ervin is a sharp-eyed, sure-handed guide."
— Stewart O'Nan
"The variety of viewpoints and the author's evident intimacy with an ancient foreign capital [Budapest] are promising, and Ervin makes it plain that he is taking on weighty themes."
—The New York Times Book Review
Available Here: